How do you restore cloudy headlights?
Headlights can become cloudy and dull over time, which can mean they are less efficient. This can also result in an MOT failure. Luckily here at MOT City we have the latest headlight polishing equipment available, allowing us to restore your headlights to crystal clear showroom condition without the need for replacement
Can plastic headlamps be restored?
These days most headlights are made from polycarbonate plastic, which is durable and scratch-resistant. The problem is that polycarbonate plastic can become fuzzy and begin to cloud up over time. This is not usually due to scratching, but mostly from UV sun rays which can degrade the outer layer of plastic. Luckily we are experts in headlamp polishing, and can restore the plastic of your headlights in no time.
Before headlight polish: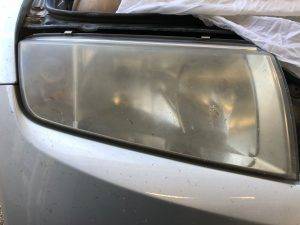 After headlight polish: